Cleaning
photovoltaic panels
and glass roofs

As of 30 June 2017, it was estimated that there were 400,000 PV solar panels installed in France, with an average annual growth rate of 2.5%, and total electricity production equivalent to 4.2 terawatt hours. To maintain high levels of output, solar panel operators must maximise productivity, and are always on the lookout for ways of optimizing performance by getting more light on to the photovoltaic cells.
How dirt affects output from photovoltaic panels
According to a number of scientific studies, poor positioning of photovoltaic equipment can cause productivity to drop by anything from 3% to 16%. Dust, dead leaves, moss and dirt, however, are just as likely to damage productivity. This explains the wide range of cleaning solutions already on the market, including telescopic brushes, autonomous robots, cleaning kits, etc.
You don't need to call in a specialist cleaning company to clean your photovoltaic panels. If you only have a relatively small area to clean, you can do the cleaning yourself, especially given that wind and rain can provide natural assistance in keeping your photovoltaic panels clean.
However, specialist cleaning companies can still be a good solution for cleaning large solar farms designed for industrial use. For a large-scale solar farm, failure to clean solar panels effectively can lead to a loss of energy generation capacity equivalent to several thousand euros per year, as compared to a few dozen euros a year for a domestic user. Moreover, some areas of industrial solar farms can be difficult to access, and panels often have to be cleaned remotely using specialist equipment.
Whether your panels are installed by an independent electrician or by a company, it is reasonably common practice for maintenance agreements covering solar panel cleaning to be incorporated into installation contracts. Cleaning under this kind of service agreement may be carried out using a variety of more or less effective techniques, such as telescopic brushes, autonomous robots, etc.
Using a robot to clean photovoltaic panels
Among the products on the market, autonomous robots such as the Opti+5 robot are emerging as an attractive option for cleaning photovoltaic equipment. For the maintenance of large solar farms, these robotic systems have a number of advantages over more traditional methods: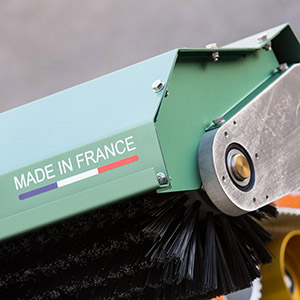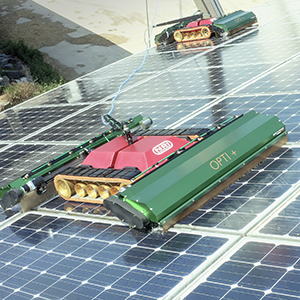 Safety: Some robots can be operated by remote control. This allows the operator to clean the photovoltaic panels without running the risk of electric shock or falling from height. Using a remote-control system also removes the need to perform repetitive movements, reducing the risk of injury.
Productivity: For photovoltaic panel cleaning companies, productivity is key to the success of their business. Through the use of autonomous robots, cleaning times can be optimised over increasingly large areas. By way of example, the Opti+5 can clean up to 400 m² per hour over two consecutive passes.
Cleaning quality: the use of traditional cleaning equipment can make it easy to forget to clean certain areas, resulting in dust and dirt being left behind, or certain hard-to-reach areas being neglected. Robotic cleaners can help you to access difficult areas and make sure that the entire area to be cleaned is covered. In addition, the rotating brushes fitted to robotic cleaners are able to deliver superior cleaning quality. Using a robot cleaner can help you to recover up to 15% of the total output of your solar panels.
Autonomy: through built-in lithium ion batteries, some robots are able to clean without interruption for up to an entire day. The fact these robots can operate autonomously is key to the productivity gains they can deliver. A user-friendly radio control system also means the device can be easily manoeuvred remotely, which increases operator comfort and leads to superior results, thanks to the perspective operators are afforded from a remote position.
Durability: as the robot is fitted with an aluminium chassis and rubber tracks, the weight exerted on the panels is far less than the weight of a human operator. This means the robot is much less likely than a human to damage to your photovoltaic equipment, and can help to prolong the service life of your equipment. This is in contrast to more traditional cleaning systems, which may also exert undue force during cleaning. An autonomous robot allows just the right amount of pressure to be applied at the exactly right point, eliminating the risk of microscopic cracks appearing in your panels.